After recently winning back some time from my work life to explore more creative projects, I decided to get serious about building a daily writing habit. I had written 5 books between 2011 and 2012, which brought me tremendous creative fulfillment and pushed me to become a better writer. Since then, however, well… life. After revisiting the book Daily Rituals, in which I learned that many of the most prolific writers had a daily writing habit, I became inspired to rebuild my writing muscle. I then set a goal (which I announced on Twitter): I would write every day for a month.
Why build a daily writing habit?
To quickly sum it up, I decided to build a daily writing habit in order to:
Get things done: I'd started and prematurely stopped my fair share of writing projects; so my hope was that building a daily writing habit would help me push through any inevitable resistance for future projects.
Become a better writer: I wanted to become better at writing, and the deliberate practice of writing each day (along with studying the best writers) would help me accomplish this.
Seek creative fulfillment: I was fulfilled by the challenge and flow state that writing brought me, but I wasn't prioritizing it in my day-to-day life. I wanted to ensure I would have an ongoing creative outlet.
What happened when I wrote every day for a month
1. I got more things done.
I was more creatively productive than I had ever been in any 1-month period. I accomplished my writing goals of an email course (more on that soon!), 6 blog posts, and a fictional short story. To help me achieve these results I used a combination of techniques:
During non-workdays, I wrote within a 4-hour timebox of 7-11 AM. During workdays (when I needed to go into the office), I used a 1-hour timebox of 6-7 PM. I was most successful with a 10-minute workout or meditation before going into writing mode. I tried writing at 4:30 AM or after 9 PM but found that those more extreme routines left me lacking of quality sleep.
I kept track of my daily writing practice using the Don't Break the Chain technique, which Jerry Seinfeld uses to incentivize himself to write. Essentially, this involves crossing off each day on the calendar that you complete your habit.
Here's what my Don't Break the Chain calendar template looks like: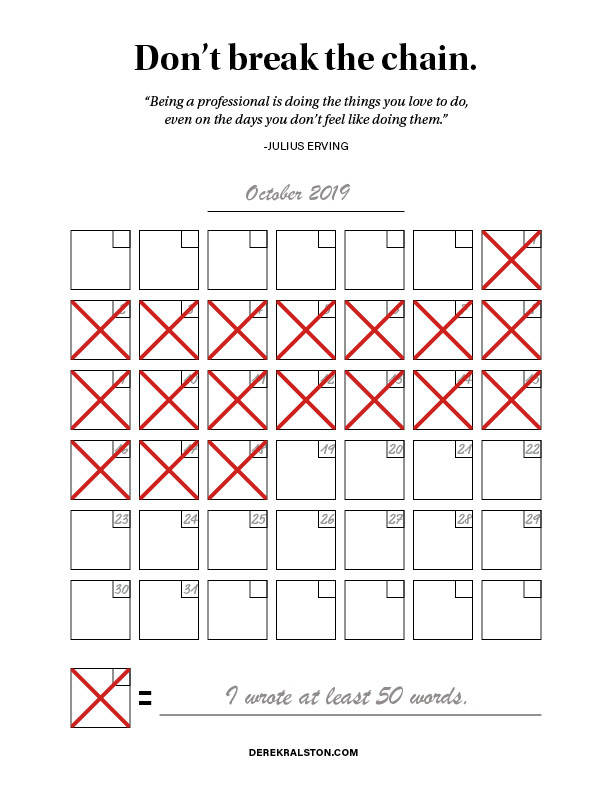 I have a printable you can download for free, just signup for my private mailing list on the right sidebar to get access to it.
The Pomodoro Technique helped me gamify my writing tasks and set mini-goals (25 minutes is equal to 1 "Pomodoro"). Read more about how I use the Pomodoro Technique to manage my writing time.
To record my Pomodoros so I could later analyze writing trends, I used a Google Spreadsheet:

Here's a visualization of my Pomodoro trends over the month: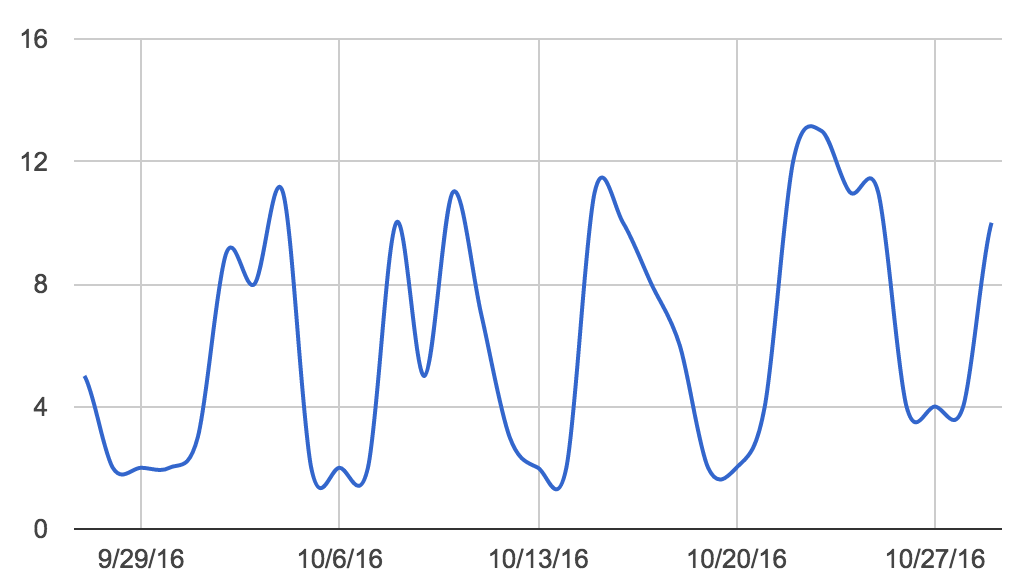 As planned, my daily Pomodoro count dipped on workdays. Surprisingly, my most productive writing time (based on word count for first drafts) was 6-7 PM on Wednesdays on Fridays. As those are workdays, my hypothesis is that having less time available made getting my writing done in 1-hour allotments less negotiable.
Agile Development techniques
When I'm not writing, I work in the software industry as an Agile Coach. I realized that many of the same concepts from Agile Development could be applied to writing, so I started experimenting with incorporating Agile techniques into my writing activities:
Kanban board to focus my writing activities
Daily Stand-ups to plan my writing activities
Retrospectives to optimize my writing process
Join my newsletter to hear more about these techniques in future posts:
Important Note: Taking breaks frequently and creating an ergonomic workspace were critical to my development of sustained writing productivity. Read more about my workspace optimizations (and how I prevented carpal tunnel) here.
2. I improved my outlining and editing skills.
To become a better writer, I also tried to read instructional resources every day. This really helped me improve my outlining and editing skills. Here are a few of those books and blog posts:
The Classic Guide to Better Writing by Rudolf Flesch and A.H. Lass: Helpful techniques and exercises to write simply, clearly, and correctly. Get the book on Amazon.
Bird by Bird by Anne Lamott: An honest and approachable book about writing (with some laughs along the way). Get the book on Amazon.
"33 Unusual Tips to Being a Better Writer" by James Altucher: Blog post with some unusual but useful tips on being a better writer (ex. "take a huge bowel movement every day"). Read the post.
After each writing session, I held a Retrospective (Agile technique) to optimize my writing process. I asked myself what went well, what could be improved, and what steps I could take to make improvements (join my newsletter to learn more).
3. I learned how to stay inspired.
I am fulfilled by the challenge and flow state the writing brings me. But writing every day requires grit. To stay inspired, I reminded myself each morning of my purpose and life goals. I read something inspirational before I started writing. I kept some inspirational quotes visible in my writing area (a personal favorite: "Being a professional is doing the things you love to do, even on the days you don't feel like doing them." by Julius Erving). Here are some books that helped me stay inspired:
Coaching the Artist Within by Eric Maisel: Teaches you how to use the techniques used by creativity coaches on yourself. Get the book on Amazon.
Show Your Work by Austin Kleon: Teaches you how to become known by sharing your work and engaging in the creative community. Get the book on Amazon.
If I felt blocked, I self-coached myself using techniques from Coaching the Artist Within. Sometimes though, it was better to talk something out. I had weekly check-ins with my girlfriend which proved to be very helpful.
My journey has just begun
My 1-month Daily Writing Chain has already benefited me so much, but it doesn't stop here. I definitely want to keep going and learn more about your writing experiences as well. Do you have any tips to share? I'd love to hear from you. Add a comment below or contact me directly. Make sure to join the private mailing list to get your free Don't Break the Chain printable if you're thinking of building your own daily writing habit and feel free to keep me posted.
Photo by Carla Gabriel Garcia